----- "Let your light shine before men" (Matthew 5:16) -----
Internet Edition No. 81 --- May 2011 ---
Cover Page of print edition
Table of contents
Title
Author
Editorial
Watch out for false teachers
Johnson K. Samuel
The sacred vocation of Pastor
Dr. Thomson K. Mathew,
Dean, Oral Roberts University, USA
King James Bible - 400 years old
Meditation:
Let there be light
Saju John Mathew
Youth Forum
Our encounter with others
Dr. J. Varghese, ICPF
Challenge of discipleship
Pastor Shibu Joseph, Mumbai
A memorable visit to Lahore:
Pastor K.J. Samuel remembered
Leena Samuel, USA
News & Views
Johnson K. Samuel
Personalities encountered by Jesus - 25:
John the Apostle
Selected
"Children's corner"
The power of prayer
Juby Varghese
Malayalam section:
Salomontey aadambara jeevitha saily
paraajayamaayitheernu - Part 5
Pastor Veeyapuram Georgekutty, Dallas
Malayalam section:
Sabha enna marmam
Thomas Nainan, Mumbai
Malayalam section:
Poem: Kothikkunna maanasam
Pastor Thomas Mathai, New York
Malayalam section:
Vyaajathinte vyaapaara sakhtiye
thirichariyuka
Pastor James Ponnolil
Malayalam section:
Abhimukham: Pastor Wilson, IPC Aurangabad
Suvartha representatives
Malayalam section:
Vasthra dhaaranathil vanithakalku
vivekam undaakanam
Mathews Plammoottil, Vechuchira, Lecturer, Government College, Chavara
Malayalam section:
Satvachanangal
Sree Saakshi
Malayalam section:
Aabharana varjanam
Prof. Ezhamkulam Samkutty
Malayalam section:
Anubhava saakshyam
B.L. John, Mumbai
---
Editorial
Watch out for false teachers
Johnson K. Samuel
Convention messages should not be used to arouse the greed for material things in the hearers, declared a respected servant of God while he was speaking at a convention in Kerala. He continued: Preachers should focus on matters of eternity rather than on promises of immediate material prosperity to the listeners.

Preachers like him are rarely to be seen or heard these days, both on convention stages and on the so-called "Christian" TV channels. Many of the "crusade preachers" and TV evangelists proclaim a different gospel and not the gospel of the kingdom of God. Apostle Paul said: "But I am afraid that just as Eve was deceived by the serpent's cunning, your minds may somehow be led astray from your sincere and pure devotion to Christ" (2 Corinthians 11:3 NIV), "Evidently some people are throwing you into confusion and are trying to pervert the gospel of Christ. But even if we or an angel from heaven should preach a gospel other than the one we preached to you, let them be under God's curse!" (Galatians 1:7,8 NIV). Such preachers who throw people into confusion and distract people from their devotion to Christ and from their eternal hope are in Paul's words "under God's curse".

The main theme that is dished out nowadays is that all material blessings, like promotion in job, new car, bigger house, freedom from debt, a hundred fold return on financial contribution and so on, will follow if you support their ministry or sponsor their telecast. Is this not similar to what Satan, the tempter, told Jesus in the wilderness: "All this I will give you if you will bow down and worship me"? The deception is in enticing people by saying that they will be rich and healthy if they follow Jesus. The preachers wax eloquent on present temporary blessings and not on salvation and eternal life. The present prosperity has taken precedence over the future blessings in the kingdom of God. People come away from these meetings with visions of a new car or a new house and not "looking forward to the city with foundations, whose architect and builder is God" (Hebrews 11:10).

False teachers are not a new breed in the church. They were present even in the days of the Apostles. They are workers of the enemy - paid employees of the tempter. In the parable of the wheat and the weeds, Jesus allowed the weeds to grow with the wheat until harvest because while rooting out the weeds, wheat may also be harmed. (See Matt. 13:24-29). So both true and false teachings will continue till the harvest time. It is time that we keep a watchful eye on false teachings and recognize them as they are even if they come from the highest quarters or they are presented very attractively, even convincingly. Your attention is drawn to the Malayalam article elsewhere in this issue: "Vyaajathinte vyaapaara sakthiye thirichariyuka" by Pastor James Ponnolil. Its message is quite relevant today.
---
The sacred vocation of Pastor
Dr. Thomson K. Mathew, Dean, Oral Roberts University, USA
The writer declares that pastors are not created by seminaries, but God makes pastors and seminaries can only train those who have been called by God.

I just finished reading the reflective autobiography of Eugene Peterson, the pastor who authored the Message version of the Bible in contemporary American English. The book titled The Pastor: A Memoir, is Peterson's description of his life along with reflections on that life as a shepherd of God's people. As the son and grandson of early Indian Pentecostal pastors and as a pastor/teacher, I was moved by this book as I realized once again the privilege I have been given to live out this vocation.

Born to a butcher father and Pentecostal preacher mother, Peterson was lured away by God's call from a prestigious academic life as professor to become a pastor of a local church. This journey of joys and sorrows, pain and pleasure has been most rewarding to him. In his vivid description of that journey, Peterson makes many vital observations that are very important for contemporary pastors who are highly tempted to go for the glitter and glory of unbiblical leadership models and professional performance.

The current culture demands leaders who can "get things done" and "make things happen." Bible Colleges and seminaries are guilty of buying into this idea without critique. Christian media are also guilty as they promote performers rather than true pastors. Certainly pastors must also be doers, but according to Peterson, if pastoring is reduced to simply performance, we are losing the essential element of being a pastor which is to watch over the souls of men and women, to care for them and to pray without ceasing.

Pastors are not created by seminaries; God makes pastors. Seminaries can only train those who have been called by God. Not everyone attending seminary should become pastors. Seminary gives tools; God gives the call. It is the call of God that makes a pastor. We have some people now in pastoral positions because they have certain skills, but no call and they wind up exercising their real call to be merchants or entertainers and do those things from the pulpit in the name of pastoring. They have made the congregation of the people of God their "audience" and the ekklesia, the Church, the community of faith has become their market place and platform.

Personally, I do not believe that there is anything wrong with adapting useful ideas about organization, leadership or communication for the sake of the gospel. The problem is accepting them without biblical scrutiny and adopting those that are contrary to the spirit of the word of God just because they "work." I am not suggesting that we abandon all methodologies of ministry just because they are not directly mentioned in the Bible. What I am saying, as Peterson has so eloquently done, is to go by the word of God. Peterson is right. Pastors are not called to be bureaucrats. Their main job is not management. Primarily they are shepherds who pay attention in the name of Jesus to people who live their lives here and now.

Churches are meant to grow naturally because they are living organisms. This growth is supposed to happen through conversion of people as members of the Body of Christ bear witness to the Truth that has transformed their lives. Stealing sheep as the mode of church growth is not biblical. Churches are not supposed to be in competition with one another fighting for a fair share of the religious market.

Peterson makes many interesting observations. Churches are not franchises, he says. Pastors must preach the word that their people need to hear, not just preach about the "furniture in heaven and the temperature in hell." Jesus Christ and Him crucified should be our topic.

Peterson is very hard on modern church growth movement. He may be overstating the case, but his warning that there are three intoxicators that tempt pastors - wine, women and crowd - is very interesting. He feels that "crowds are a worse danger" because "size is the great de-personalizer." Peterson is calling the church to return from the entertainment business back to the edification work.

Pastors should not be control freaks. They should not manipulate people. They must care for the people and do all they can to create a "culture of hospitality" in their churches. The church should be a place where relationships are primary, a place of hospitality. Pastors must live with the awareness of their own mortality. They die daily, but also live daily with the anticipation of the resurrection. "We practice our death by giving up our will to live on our own terms. Only in that ...are we able to practice resurrection," says Peterson.

Reading Eugene Peterson's memoir brought back many memories of my own parents and grandparents. They toiled in the hills (Vechoochira) and plains (Niranam) of Kerala, finished their work and went home to be with Christ. Informed by the word of God and nothing much more, they lived out their vocation of being shepherds to people of modest means. They loved them and cared for them. They extended their own lives unselfishly for the sake of the Kingdom of God. That model of pastoral ministry scared me, but also drew my attention. God's call led me to it. Having been a pastor and teacher, I now recognize more fully the importance of what I saw as a child in my family of shepherds.
---
<!TD width= "15%"><!IMG SRC="http://suvarthamagazine.org/suvartha/images/shibu1.jpg" WIDTH="72" HEIGHT="94" BORDER="0" ALT="">
King James Bible - 400 years old
*****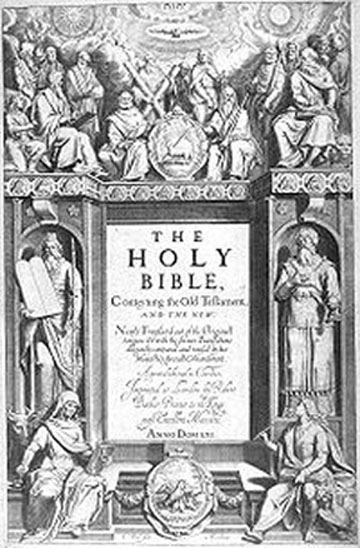 The title page to the 1611 first edition of the Authorized Version Bible shows the Apostles Peter and Paul seated centrally above the central text. Moses and Aaron stand on either side of the text. In the four corners sit Matthew, Mark, Luke and John, authors of the four gospels, with their symbolic animals. The rest of the Apostles stand around Peter and Paul.
King James Bible (KJV) was published on May 2, 1611 and completes 400 years now. King James of England convened a group of scholars in 1604 to translate Scriptures - the Old Testament from Hebrew and the New Testament from Greek into English. The work was done by 47 translators in six committees working in London, Oxford and Cambridge.

This version has remained the dominant version of the Bible for centuries. As "Time" magazine says: "The King James Bible was not a book of poetry or philosophy or music or mystery but something of all these, which is one reason its rhythms remain embedded in our language 400 years after its publication". David Crystal, honorary professor of linguistics at the University of Wales, traced 257 expressions in modern English which are in the King James Version. Some of the unique contributions are phrases such as "labour of love", "fight the good fight", "eat, drink and be merry", "in the twinkling of an eye", "east of Eden", "how are the mighty fallen", "beat their swords into plowshares", "get thee behind me", "the skin of my teeth", "the root of the matter", "turned the world upside down" and "a thorn in the flesh" which have become part of English language and find expression in every day use. KJV lovers maintain that newer versions can never be compared with the majestic language of KJV. For example, "For dust thou art, and to dust shalt thou return" in KJV becomes in the Good News Bible, "you were made of soil, and you will become soil again."

Although the easier-to-read New International Version (NIV) has become the best selling Bible in America, still KJV retains an iconic status. President Obama was sworn in to office on Abraham Lincoln's personal Bible in KJV. As an evidence of its continuing importance among British royalty, Prince William and Kate Middleton Wedding Bible is also KJV version.
---
Meditation:
Let there be light
Saju John Mathew
Reading passage: Gen. 1 :2-4

God saw that the world he made had become void and shapeless. God came down to see what had happened. Everything was a mess because there was darkness upon the deep!

Who created darkness?

There is no need to create darkness. Just blow the light out and it is darkness. Darkness is not something that has a being. It is just the absence of light.

Once, during an overnight function, an elderly man gave a lit lantern to a boy and asked him to keep it where he finds darkness. After the lad rambled on for a while, he said he couldn't see darkness! Yes, wherever he put the lantern, the darkness fed and light reigned! Where there is no light, it is darkness. Where there is light, there is no darkness.

It is mutually exclusive.

Darkness turned Earth into a chaos. In fact, the problem was not darkness, but absence of light. To rebuild the earth, light should come back! Therefore, God said: Let there be light, and there was light! And light brought life, and life brought everything!

Isn't it confusing to see that light is created in the first day, while God creates sun only on the fourth day?

In this description of creation, neither darkness nor light is referred to literally. In this context, the darkness is a spiritual darkness. The earth was without God, and it became void. Darkness was upon the deep, because there was no light, or in other words, because of the lack of God's presence! To make things right, it was not the light of the sun that was needed, but the light of God ... Therefore, God sent His light to the world, and the world was rebuilt! "In him was life, and that life was the light of men" (John 1:4)

Sun is not the source of light. Son is. It is God! He himself is light, and in Him, there is no darkness! (1 John 1:5). In His presence, everything is light. In His absence, everything is darkness.

God created us as children of light. We, however, yielded to darkness many times over. We need God to hover over us so that the darkness in us is turned into light.

Prayer: "Shine upon me, O Holy God, so that I can reflect your light"

For further reading: John 1:1-14, 1 John 1:5-7
---
Youth Forum:
Our encounter with others
Dr. J. Varghese, ICPF
The writer suggests that for developing a method for interpersonal relationships, the Jesus - Samaritan woman encounter can be kept as an example to follow.

In our day to day life we encounter with many persons. We may not know the background of the persons whom we meet. We consider them as passers-by and forget them forever. A comprehensive understanding of the realities of the person, family or group is essential for discerning them. But we lack in these areas of understanding. The contextual realities will contribute and shape the persons experiences, feelings and meanings. Some of the realities which we need to focus are family history, social relationships, educational history, employment situation, economic background, religious background, faith expressions and experiences, personal functional capacity and the presenting problems. Here we can follow the pattern of Jesus' encounter with the Samaritan woman. This encounter acts as an illustration for developing relevant and contextual approach to human relationships in general and counseling in particular. This illustration points to essential skills and qualities that are required for building relationships with others.

Jesus met Samaritan woman at her place, time and context and began with a conversation that created curiosity and appealing. His approach surpassed conventional wisdom and practices. Jesus listened to her story with intensity and compassion and spoke her language and used her vocabulary. Jesus did not attempt to provide to quick answers or solutions. He accepted the Samaritan woman as she was without any judgments. His approach indicates simple method that was appealing to the woman. Jesus indicated that helping this woman was part of His mission and interpreted her story in such a way that created new insights. Jesus approach not only shown interest in her but also her living context and intended to help this woman to act in accordance with her new insights. His dealings with her helped her to renew herself and her relationship. He has shown a way of life that was more meaningful to her and helped her to face the realities of her life and to make changes.

In the light of these insights one can draw some indications for developing a method for interpersonal relationships. In the Jesus - Samaritan woman encounter Jesus responded to her whole story, the content of her experience, the feelings and the meanings. The human stories or experiences involve the content of what they have expressed, the feelings that are reflected and the meanings that are implied. This kind of encounter can bring expected out come in our relationship with others and win them for Christ.
---
Challenge of discipleship
Pastor Shibu Joseph, Mumbai
The writer asserts that Jesus did not start out His followers on a bed of roses. He made it absolutely clear from the beginning what is involved in following Him.

And whoever does not carry their cross and follow me cannot be my disciple" (Luke 14:27)

Modern Christianity is going through a critical situation and is experiencing many twists and turns. Convenience has become the axis of many so - called spiritual people. God's word and will are neglected so often. Rather than looking into the aspirations and assertiveness of God's unalterable word we are now indulging in selfish motives and boycotting the principle of word's moral and spiritual implications. This certainly causes Christianity to be blamed and the name of Jesus to be reproached among the gentiles. Most of the time prayer is to obtain physical deliverance and prosperity alone. Modern preachers fail to convince the people about the God's plan and priorities based on the living word.

In this particular situation Jesus' words about following Him, must be taken seriously. 'Following Him' is the axis of discipleship. Jesus did not start out his followers on a bed of roses. He made it absolutely clear from the beginning what is involved in following Him. Many Christians suppose and they are even taught that becoming a child of God (sonship through new-birth) is more sufficient than anything else. Definitely sonship is a privilege as the result of redemptive work of Jesus.

However discipleship is a responsibility. It is the result of one's commitment and determination to follow Jesus. Sonship is given as the gift of redemption by His grace whereas discipleship is the act of our obedience to the call. So every child of God should take a pledge to be a disciple of Jesus. Jesus does not need just a few children who praise Him but disciples to follow Him.

Discipleship is a serious business. It is a costly affair. It is all about following the Master. It is not based on a passing interest or fancy but on a determined attitude to see through the end (Luke 9:62). Discipleship is a commitment to the way of Jesus. The word 'disciple' is a favorite term for Jesus. It has been found that the word occurs no fewer than 269 times in the first five books of the NT. Jesus wants us to be known as His disciples. Only the disciple can reveal the mind of Christ our Master.

How do we define Discipleship?

Discipleship is understood in a number of ways in the gospels. A few can be unveiled here:

First: A disciple is a person who lives continually by the words of Jesus

Jesus says: "--- if you abide in my word, you are truly my disciple ---" (John 8:31, ESV). Today it is imperative that church must live and abide in His word.

She is called to be the steward of His word. People must move from the emotional base to the theological base. Many are living at the level of their feelings, experience and self revelations. The lack of commitment and stewardship to the word has led many into the vulnerability of many mean areas of life.

Second: A disciple is a person who commits completely to the Master

A half - hearted commitment will never work out. There is no place of self interest and motives in the matter of total commitment. Actually this fact points to the sacrifice on the altar. All our ambitions, whims and fancies, self motives, personal advantages and egoism must be burned out in the sacrificial commitment.

Third: A disciple is a person who lives in the cross-bearing relationship with Jesus

This might be the most challenging part in the understanding of discipleship. In the teaching of Jesus cross is not just belonging to Jesus alone. His followers also need to take up their cross - of course, not the cross of Jesus. Taking up the cross involves many truths. It is the symbol of death.

St. Paul rightly puts in 2 Cor. 4:10: "always carrying in the body the death of Jesus ---" (ESV). A true disciple has been crucified with Christ (Gal. 2:20). By taking up the cross one has to embrace the mind of Christ and permit Jesus to live in him. The modern preachers never talk about the cross. They just project the 'charm of crown'. Nevertheless there is no Christianity or discipleship without cross-bearing commitment. They hide the cross and highlight the comfort. Woe unto them that hide the cross from the teaching of Jesus and deceive the hearers. Their judgment is certain. Cross is not just the symbol of physical problem, financial crisis or other ailments. It is the symbol of death, it is the symbol of forgiveness too. Today many Christian live with unforgivable hearts. To them the cross-bearing should be a challenge and a discerning factor.

Finally: A disciple is one who lives in a fruit-bearing relationship with Jesus

In fact fruit-bearing is the divine purpose of our election and expression of our-inter dependence with Jesus (John 15:15,16, 15:2-4). Today many are bearing fruits, but unfortunately these are wild fruits. One of the drawbacks in today's interpretation is in the great emphasis on gifts and modern spirituality - to say that by using charismatic gifts one can do things the way Jesus did. But, more essentially we have been called to live like Jesus rather than do like Jesus.

It is high time to re think about our commitment with Christ as followers and to consider our priorities in the light of discipleship credentials. There are more soldiers around the cross today than disciples - as we see on Golgotha. The Body of Christ need more disciples who are committed. Jesus is expecting nothing but a true discipleship attitude. Let all the world come to know that we are disciples of Jesus.
---
A memorable visit to Lahore:
Pastor K.J. Samuel remembered
Leena Samuel
Leena Samuel, grand daughter of Pastor K.J. Samuel makes a memorable trip to Lahore in Pakistan and witnesses the fruits of the pioneering evangelical work that he did in Lahore and surrounding areas before partition

"Therefore, my dear brothers, stand firm. Let nothing move you. Always give yourselves fully to the work of the Lord because you know that your labor in the Lord is not in vain" (1 Corinthians 15:58)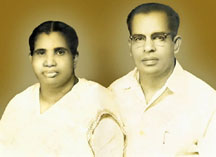 In 1941, my Appachan, Pastor K.J. Samuel, responded to God's call on his life to leave the comforts of his home in Kerala and travel with his wife, Mariamma, and younger son (my father, Jefreys Samuel) to Northern India to share the love and compassion of Jesus Christ to communities that had not yet been reached with the Gospel. Their travels took them to the city of Lahore, which is now part of Pakistan.

Over the course of the next seven years, they made Lahore their home, and their two daughters, Lilykutty and Rosamma, were both born there. With a small group of believers, they held Sunday services in their home, and Appachan also traveled to various places throughout what is now Pakistan to preach the Good News of Jesus Christ to other unreached communities. One of the first people to be saved through his ministry was Dr. Sinclair, who was a professor at the Foreman Christian College in Lahore. Dr. Sinclair invited Appachan to lead Bible studies on the University campus and later offered him a staff position as campus chaplain.

On August 15, 1947, India declared its independence from the British Empire. Simultaneously, Pakistan broke off from India and declared its own independence to form an Islamic Republic. Lahore and other towns along the newly determined border separating Pakistan and India became a war zone as Muslims and Hindus who previously had lived as neighbors suddenly became enemies, and began to kill and destroy each other. On October 22 Appachan sent a letter to the Seeyon Kahalam Magazine that was later published. In the letter he describes how God protected their family in the midst of living in a war zone. Here is an excerpt from the letter (translated into English by my Uncle, Johnson K. Samuel, who remained in Kerala with relatives to go to school while the family was living in Lahore):

"Bombs were thrown in localities near to our home and many people were killed. Houses of many Hindus were burnt down. --- All the houses around us were looted in broad day light and many were stabbed to death. Many of our neighbours have fled the country. For the last many days we are alone in this locality. We are experiencing the promise of the Lord: 'A thousand may fall at your side, ten thousand at your right hand, but it will not come near you.' Unruly crowds have come to our house also. Christians are escaping death by displaying the sign of the cross on their clothes and in front of their houses. Even some non-Christians have escaped death in this manner."

It was nearly one year later, upon threat of losing their Indian citizenship, that Appachan and the family left Lahore to return to India. I can only imagine what Appachan must have thought leaving his ministry behind, not knowing what would happen to the churches he had started. Yet I am confident, given all that I have heard about him that he must have held onto the promise of 1 Corinthians 15:58 that his labor was not in vain.

More than 60 years later, in February 2011, I had the privilege to see for myself that indeed Appachan's labor was not in vain. The organization that I work for, Food for the Hungry, had initially sent me to Pakistan in August 2010 to help a local partner in their response to the floods that devastated nearly 1/5 of the country and affected more than one million people. I returned again in February.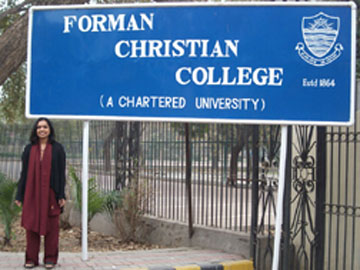 On this second trip, I had an opportunity to spend a weekend in Lahore. Prior to leaving for Pakistan, my parents had contacted a Pakistani Pastor in Canada, David Manuel, whose family had been saved through Appachan's ministry. Pastor Manuel provided us with contact information for a Pastor Hizikial Ferosh of the Lahore Pentecostal Assembly. I contacted Pastor Ferosh before flying out to Pakistan to confirm that he would welcome my visit to his church. He was overjoyed and said that he had never met Appachan since he was only a small boy when my family left Lahore, but he had been discipled by Dr. Sinclair who often times would speak about Pastor K.J. Samuel, one of the founders of the Pentecostal movement in Pakistan. He said I was more than welcome to visit his church with a congregation of 4,000 members. I wasn't sure if I heard him correctly, as I was certain there could not be a church that large in Pakistan, but rather than question Pastor Ferosh, I thanked him and told him I would be in touch once I reached Lahore.

The Sunday morning I was to visit the church, Pastor Ferosh had his grandson picked myself and my work colleague from the hotel where we were staying. When we arrived at the church, I noted that the building appeared to be far too small to host 4,000 members. We were led down a narrow alleyway to the entrance of the church at the rear of the building. The church was already in session, and we were greeted by the sounds of the congregation singing and clapping their hands in praise to the Lord. I was instantly overwhelmed as we walked in and I saw the mass number of worshippers filling every corner of the church (and there was an upstairs as well) - there was no question that the congregation was 4,000 members strong.

Despite our protests we were led to the front of the church and asked to sit on the podium with the Pastor and worship leaders. As the congregation continued to worship and sing in Urdu, I clapped along and tried my best to contain the tears that were threatening to overflow as I thought about Appachan and how I wished he could be there with me to see the fruits of His ministry. Before preaching, Pastor Ferosh asked me to share a brief testimony and he also shared about Appachan to the congregation. He spoke about how as a young man he had heard about how Pastor K.J. Samuel was a pioneer of the Pentecostal movement in Pakistan, and the humble beginnings in a small room that Appachan named "the Gospel Hall." More than 60 years later, the movement was flourishing, as evidenced by the large congregation gathered together to worship that morning in Lahore.

I have come away from this experience in awe of the amazing way in which Gods works. I have also come away humbled by the realization of the incredible sacrifice that not only my Appachan, Pastor K.J. Samuel, but so many others have willingly made, in obedience to the Great Commission to preach the Good News of Jesus Christ to every nation. May we all feel the same passion to heed the words of I Corinthians 15:58 to "stand firm" and always give ourselves "fully to the work of the Lord" knowing full well that our "labor in the Lord is not in vain."
---
News & Views
Johnson K. Samuel
Luis Palau preaches in Communist Vietnam!

According to a report in The Christian Post, Evangelist Luis Palau joined tens of thousands of Vietnamese Christian in Ho Chi Minh City in the first week of April to celebrate the Protestant church's 100th anniversary in the country. He said: "The Christian community here is so passionate, so patriotic, so optimistic, and so excited for the future of the nation. We love Vietnam and we look forward to many years of service to the nation". The official permission for the event was granted just hours before it was held. Under Vietnamese laws governing religion, the freedom to worship is a privilege and not a fundamental human right.

Let us remember our Christian brothren in countries where there is no freedom of worship.

Iraqi Christians look for safety

United Nations estimate that 1.4 million people have left Iraq for safety. As refugees are not counted by religious affiliation, no one is quite sure how many out of these are Christians. But about half of those are believed to be Christians. 'Christianity Today' reports that many European countries including the Netherlands and Great Britain are refusing refuge to these displaced persons. Grégor Puppinck, director of the European Center for Law and Justice, says: "We need to keep the problem on the political agenda and make sure that the European institutions continue to protect the rights and the security as much as possible of these minorities".

It may be remembered that Christians are a persecuted minority in many countries. Let us thank God for the freedom of worship that we are privileged to enjoy and make good use of it as long as possible.

Two British Schools stop Gideon Bible distribution

Christian Today reports that two schools in Britain have put a stop to Bible distributions on their campuses. Authorities of Abbot Beyne School say that the school was a multi-faith institution and it was inappropriate to allow one faith group to distribute material in school. One supporter of the Gideon organization says: "We live in a Christian country. I think that if the Gideons want to offer Bibles to children, they should be allowed to do so".

Britain has bid good bye to Christian traditions and their Christian heritage long time ago. Now it is considered politically correct to call oneself secularf and non-religious. Jesus wondered: "However, when the Son of Man comes, will he find faith on the earth?" (Luke 18:8).

Are these the nails used to crucify Jesus?


Investigator Simcha Jacobovici has made a new documentary film "The Nails of the Cross" after three years of research. He claims that two nails discovered in a 2,000-year-old tomb in Jerusalem are two of the nails used to crucify Jesus!! He hails the find as historic, but most experts and scholars contacted by Reuters dismissed his case as farfetched. Many ancient relics have been presented over the centuries as having a connection to Jesus. Many were found to be phony, while others were embraced as holy.

The nails were displayed during a press conference on April 12, 2011, in Jerusalem by Jacobovici.

The film begins by showing an ancient Jerusalem grave (discovered in 1990) which was hailed by many as the burial place of the Jewish high priest Caiaphas, who presided over the trial of Jesus. Two iron nails, eaten away by rust and bent at the end, were found in the tomb. Jacobovici says: "If you look at the whole story, historical, textual, archaeological, they all seem to point at these two nails being involved in a crucifixion. And since Caiaphas is only associated with Jesus's crucifixion, you put two and two together and they seem to imply that these are the nails". The Israel Antiquities Authority said in reaction to the film that it had never been proven beyond doubt that the tomb was the burial place of Caiaphas. It also said that nails are commonly found in tombs and the interpretation presented in the film has no basis in archaeological findings or research.

Archaeological findings have always proved the historical accuracy of Biblical history. It does not really matter whether those were the nails used in the crucifixion of Jesus or not. What is important is that He died on the cross as the Lamb of God to take away the sins of the world.

Living longer makes people unmindful about eternity!!

According to a new study, longer life expectancies in the developed world tend to make people less worried about their afterlife - people feel less pressure to make peace with God. (For instance, data from between 2005 and 2007 from statistics showed the average life expectancy in Canada is 80.7 years of age, up from 78.4 a decade earlier). Higher life expectancy leads to postponement of religiosity, meaning that people tend to feel that they have plenty of time to think about eternity and make a decision for God! The idea seems to be to enjoy the ways of the world for a longer time and get into heaven by seeking the Lord before they die.

But it is really a foolish way of thinking! Life expectancy is only a statistical average. Can anyone be guaranteed that he will live upto 80 years or more? Lord Jesus dealt with the same kind of thinking when he told a parable about a rich man who said to himself: "You have plenty of grain laid up for many years. Take life easy; eat, drink and be merry". But God said to him, 'You fool! This very night your life will be demanded from you. Then who will get what you have prepared for yourself?' Our Lord concluded: "This is how it will be with whoever stores up things for themselves but is not rich toward God" (Luke 12:19-21).

Online giving becomes popular

As consumers in the United States increasingly use online banking and bill payment, their electronic financial habits are spilling over into the church giving also. A survey of 1,003 Protestant congregations has found electronic tithes and offerings as a recent development. Some churches are realizing that it is good to put an offering plate online in addition to passing them in their worship services. Fewer and fewer people carry cash or a checkbook.

Internet is creeping into every part of people's lives. Let us hope it does not replace fellowship meetings and church services!
---
Personalities encountered by Jesus - 25:
John the Apostle
"Selected"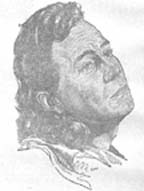 "When Jesus saw his mother there, and the disciple whom he loved standing nearby, he said to her, "Woman, here is your son" (John 19:26)

Whatever distinctions or commendable attributes the other apostles may have had, it was John whom Jesus loved with the intimate, understanding affection of brother, companion and trustworthy friend.

At the Last Supper, John was seated not only next to Jesus, but leaned his head upon the Master's breast. And in the agonized hour of His death, looking down upon the little group of faithful who had followed Him even to the Cross, Jesus commits His mother to the care of John. Again, it was the beloved disciple who first recognized the resurrected Jesus on the Sea of Galilee, when He appeared in the morning twilight on the dim shore.

John was a son of Zebedee, an apparently well-to-do fisherman of Bethsaida. Jesus nicknamed him and James, his brother, Boanerges, meaning "Sons of Thunder". Such a designation should serve to dispel the impression that might be given of John by early Christian art, which often depicts him as of a passive, meek nature. In the face of extreme persecution by a group headed by Saul of Tarsus, John resolutely stood his ground.

John's later history is not recounted in the New Testament. But according to tradition, he left Jerusalem and went to Ephesus. It is said that during the reign of Domitian, he was arrested and taken to Rome, and later sent into exile on the Isle of Patmos. It was while there that he was given the visions of the last days which he wrote down in his Book of Revelation. It is believed that he lived to an extreme old age, the dates of his death having been set variously from AD 89 to 120.
---
Children's corner:
The power of prayer
Juby Varghese, Mumbai
There lived two birds on a mango tree. One day in the afternoon the birds were sitting on a branch and singing. A hunter was passing by the mango tree. He saw the birds and was very happy. Unfortunately the two birds were watched by an eagle too.

The birds saw that they were between the devil and the deep sea. They realized that there was no way to escape. At that situation they decided to ask God's help and they began to pray "God, we need your help. It is you who can help us out. It is you who can save our lives and protect us".

God opened a way. A snake crept out of its hole and bit the hunter. The hunter missed his aim and shot the eagle. The eagle fell down and died while hunter was killed by the snake. Both the birds thanked God for saving their lives.

Dear friends, we read in Matt. 7:7-8: "Ask and it will be given to you; seek and you will find; knock and the door will be opened to you. For everyone who asks receives; the one who seeks finds; and to the one who knocks, the door will be opened". Also in Mark 11:24: "Therefore I tell you, whatever you ask for in prayer, believe that you have received it, and it will be yours".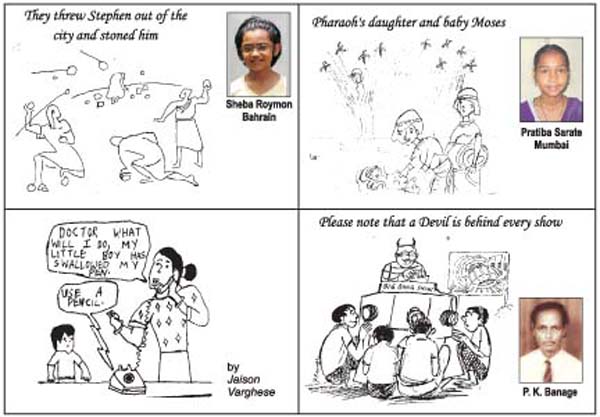 ---
Malayalam section:
Salomontey aadambara jeevitha saily paraajayamaayitheernu - Part 5
Pastor Veeyapuram Georgekutty, Dallas, USA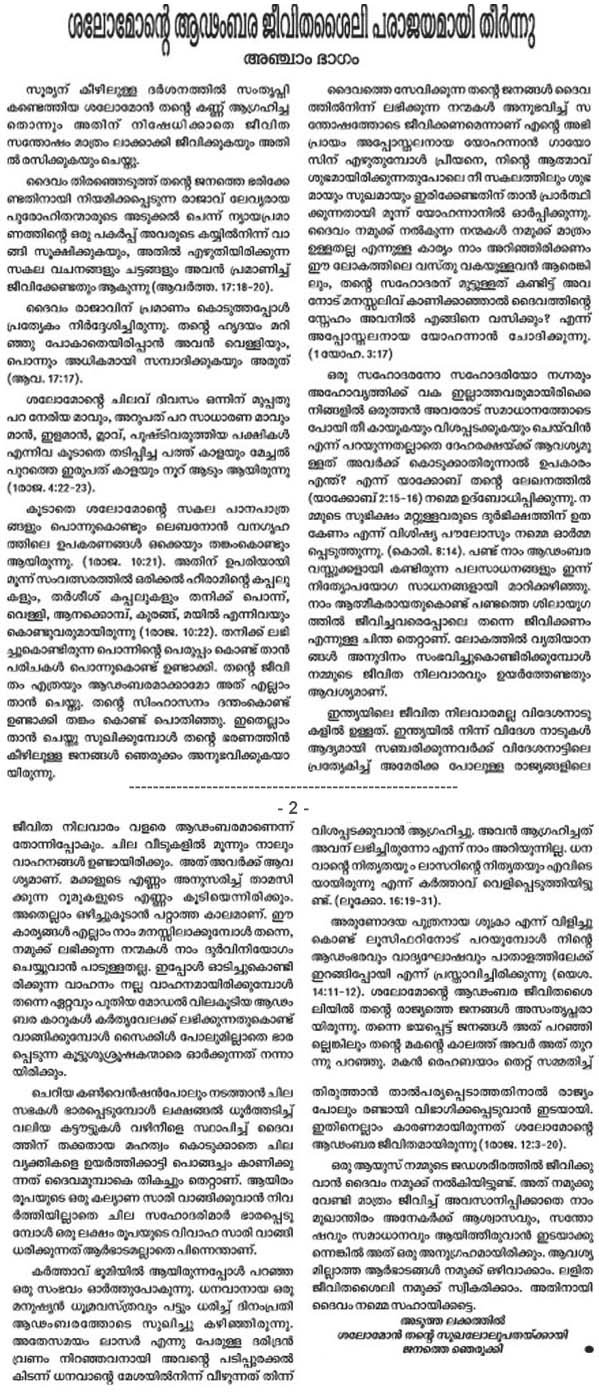 ---
Malayalam section:
Sabha enna marmam
Thomas Nainan, Mumbai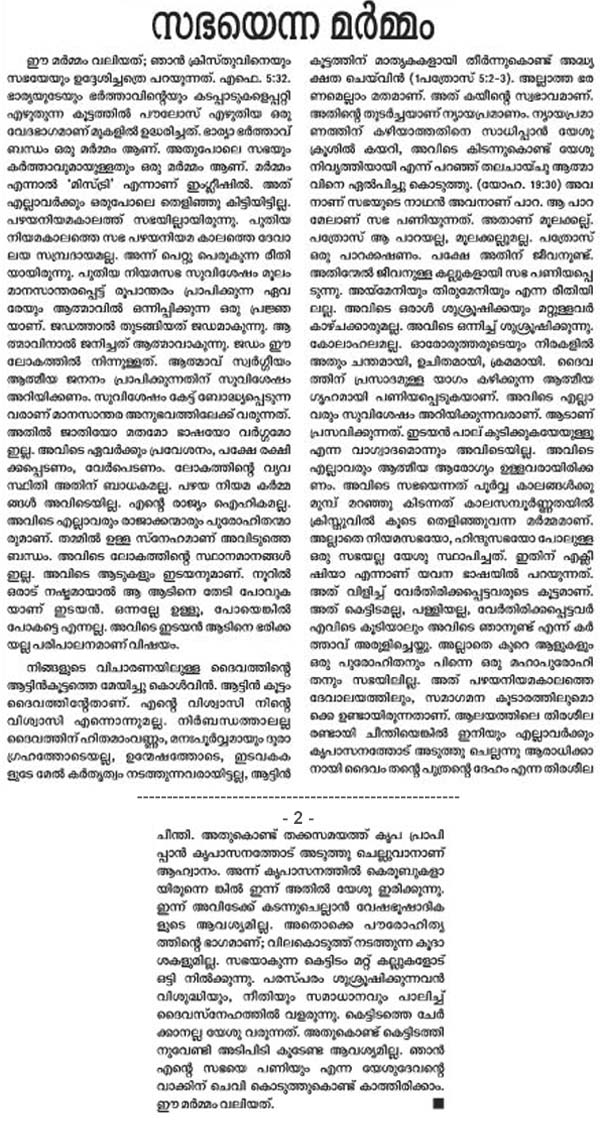 ---
Malayalam section:
Poem: Kothikkunna maanasam

---
Malayalam section:
Vyaajathinte vyaapaara sakhtiye thirichariyuka
Pastor James Ponnolil
---
<!TD width= "15%"><!IMG SRC="http://suvarthamagazine.org/suvartha/images/jacobjohnson.jpg" WIDTH="72" HEIGHT="86" BORDER="0" ALT="">
Malayalam section:
Abhimukham: Pastor Wilson, IPC Aurangabad
Suvartha Representatives
---
<!TD width= "15%"><!IMG SRC="http://suvarthamagazine.org/suvartha/images/varghesekollakompil1.jpg" WIDTH="72" HEIGHT="86" BORDER="0" ALT="">
Malayalam section:
Vasthra dhaaranathil vanithakalku vivekam undaakanam
Mathews Plammoottil, Vechuchira, Lecturer, Government College, Chavara
---
<!TD width= "15%"><!IMG SRC="http://suvarthamagazine.org/suvartha/images/jacobjohnson.jpg" WIDTH="72" HEIGHT="86" BORDER="0" ALT="">
Malayalam section:
Satvachanangal
Sree Saakshy
---
Malayalam section:
Aabharana varjanam
Prof. Ezhamkulam Samkutty
---
Malayalam section:
Anubhava saakshyam
B.L. John, Mumbai
---
© Copyright 2011 Suvartha Publications, Bombay, India. All rights reserved