----- "Let your light shine before men" (Matthew 5:16) -----



Internet Edition No. 61 --- January 2008 ---
TABLE OF CONTENTS
---
Editorial
Evangelizing the flat world
Thomson K. Mathew, D.Min., Ed.D.
There was a time when human beings believed that the earth was flat. Science has taught us since that the earth is actually a globe. Just as we were becoming comfortable with that idea, now scholars are saying that our world is flat! What they are really saying is that through improved communication, fast travel and increased commerce, the world is functioning in a totally different paradigm. Much of the world today, in spite of stark economic and cultural differences between regions, shares a common thinking pattern and lifestyle.

Tom Freeman, a well respected New York Times reporter, advanced the idea of the flat world considerably. Doug Beecham, a writer with an evangelistic perspective, has described seven specific things that have made the world flat. They are: the fall of communism, worldwide immigration, the larger number of Christians outside the West, the growth of the internet, spread of television, openness of people in un-reached areas to receive the good news from people of their own kind, and the global awareness of world problems.

As we enter the New Year, we must think of fresh ways to spread the good news (suvartha) of Jesus. Evangelism done as business as usual will not work anymore. We need to upgrade our current methods of evangelism and invent new ones to match the new world. Young people must be encouraged to think outside the box concerning this matter. They are more in touch with these issues and are called to spread the word to their own generation.

Nothing will ever take the place of personal evangelism. However, we must not insist that there are only traditional ways of spreading suvartha. God is a creative God. He can show us more effective ways to spread the news about His Only Son Jesus who died to save our lost and dying flat world. May His creativity manifest in our circles in 2008!
---
Quiet waters
Rev. Dr. Baby Varghese
Rev. Dr. Baby Varghese, USA, points out that a Christian can have peace even in his busy life. The Lord leads him beside the still waters, where it is deep and pure. There is neither a whirlpool nor any waves in it.

"The Lord is my Shepherd, I shall not want. He maketh me to lie down in green pastures, he leadeth me beside the still waters" (Psalms 23:1)

Peace is a word that is disappearing from the dictionary of modern men who live in the 21st century. Their busy and fast lives make them equal to a machine. There is no love or consideration for others. Their one and only aim is to be richer and better than their neighbors and brothers.

"Peace? Is it for me? Never in my life." These are desperate words that show the result of a hopeless life. Today, the busy life is leading man. In childhood, he needs to be educated. In youth, he wants to get a job, then marriage, family life, children, and their future. Meanwhile, where is peace? Many people are breaking down into pieces by the friction of all of the above said things. People hope that when they retire, they will have a peaceful life. That is just vanity. A careless life leads them to surrender to different diseases.

The thoughts of a lost hope hunt them everywhere. Where is peace? Now, people are addicted to the fast and busy life-style so that they cannot get peace by themselves. The only way is to be led to peace. There is a good shepherd for us to take care of us and guide us to peace. God is the only one that can give us peace. We can be guided to peace by inviting Him in to our busy lives. He is our peace.

A Christian can have peace even in his busy life. The Lord leads us beside the still waters, where it is deep and pure. There is neither a whirlpool nor any waves in it. We know about the history of many saints who had experienced peace in their lives. Abraham was a pilgrim. Though he did not have a child yet, he believed strongly in the promise of God, and by faith, he became the father of a great nation.

Moses had a life full of peace even in the wilderness and whirlwinds. He found peace in Him who called him for His service. The murmuring sound of the faithless Israel did not make him worried because he was led in peace to the quiet waters by the hand of the Good Shepherd.

When we lose peace and hope, let us pray to God, "Oh Lord, please guide me near the quiet waters."
---
I am my 'CHOICE', my choice is my 'HISTORY',
my choice is my 'DESTINY'
Joseph Kurian, Houston, USA
(Joseph Kurian writes: I am indebted to (late) Rev. Dr. John Daniel for the title of this article)

I am my 'choice'

We all make choices in various stages of our life. Some make wise choices and some foolish. Some make tough choices and some soft in various fields such as education, politics, finance, religion and so on. Yes, life is full of choices.

You are your choice. The impact of the choices depends on what, when, where and how they were made. The success and failure in life truly depends on the choices everyone makes. While a tough and wise choice may lead one to success and fame, poor and unwise choice will lead one to sadness and shame. A student who makes the tough choice will be intellectual and successful in life. A businessman who makes a good choice will be rich and great in his business. A politician who makes the appropriate choice will become a great leader for the people. A young person making the best choice for a spouse will have a very happy married life. A father and mother who make the correct choice for their children will have a good future. A Pastor or priest make the noble choice will be a blessing to their congregation.

Life is full of choices and trade-offs. Today's poor choice is down payment for tomorrow. The Bible says "we reap what we sow" (Gal. 6:7). We must, not only make the wise choices, we should follow the correct path to be successful. It is easy to start well but don't run after things that cross our paths. There is a humorous story about a bloodhound. He started chasing a deer but a fox crossed his path and he started to chase the fox. After a while, a rabbit crossed his path, so the hound chased the rabbit. Yet later, a mouse crossed the path and the hound started to follow the mouse and chased the mouse to a hole. The bloodhound which had begun his hunt on the trail of a magnificent deer ended up watching the mouse hole. The focus of the hound changed and the result was shameful.

What bad trade-offs do we make? In the Bible, we see some examples of poor choices. Moses traded the Promised Land for an outburst of anger. David traded his reputation for a night of passion (2 Sam. 11). Ananais and Saphira traded life for some extra money (Acts 5). In the heat of temptation, don't lose your cool, purpose and focus. Make the good choice and stay focused.

My choice is my 'history'

Through the pages of history we can see numerous people in the secular and spiritual world who accomplished many things by their correct choices for themselves and others. History also tells us about people who have made horrible choices and suffered severely and some ended their lives tragically. Good choices will have good history and bad choices will have bad history.

Martin Luther's choice to dedicate his life for reformation is his history. Mahatma Gandhi's choice to dedicate his life for peace and freedom for India is his history. Mother Theresa's choice to dedicate her whole life to serve the poor and needy is her history. Rev. Billy Graham's choice to preach the Gospel to the world is his history. Moses' choice to suffer for Christ than to live for the pleasures of Egypt is his history. Joseph's choice to keep himself incorruptible in all walks of life is his history. Apostle Paul's choice to serve and die for Jesus is his history. Charles Wesley, Charles Haddon Spurgeon, Hudson Taylor, William Cary, John Wycliffe, John Knox, John Wesley, Thomas Edison, George Washington, Abraham Lincoln, Oral Roberts, K. E. Abraham, P.M. Phillip, P.D. Johnson, John Daniel are some others that have made history by their choices.

We know the history of other world famous people and the result of their wrong choices. Elvis Presley, the king of Rock n' Roll died at a very young age due to addiction to drugs and alcohol. Marilyn Monroe, probably the most beautiful lady ever lived died at a very young age due to addiction to drugs and alcohol. Princess Diana's life ended tragically at a very young age due to her poor choices. Madonna, the singer and dancer, Britney Spears once the passion of many young teens, Paris Hilton, the heir of the Hilton Hotels, Michael Jackson, the dancer and singer, Magic Johnson the world famous NBA basket ball player, Saddam Hussein, once the celebrated leader of Iraq, these are all the rich and famous who made poor choices. Some are gone, some are still around, however their choice is their history.

My choice is my 'destiny'

It is so shocking when someone that we know is suddenly gone. Many were shocked when Princess Diana was tragically killed in an accident in Paris, France. When John F. Kennedy Jr. and his wife Caroline were unexpectedly killed when their plane crashed on the way to a wedding, it was shocking to many. Yes we get so shocked when people so young, vibrant and famous die unexpectedly. Death knocks at every door. It has no respect of how famous or wealthy, beautiful or powerful we are. Money, success, fame, and social status make no difference when death comes knocking. Beggars die, rich die, rock stars die, famous people die and everyone eventually faces death.

"The day we are born, our journey to death begins. But the day we are "born again" our journey to eternal life begins". Our attitude towards life and our choices in life are our history and our destiny. Apostle Paul summed up his attitude in Phil. 3:13-14, "One thing I do, forgetting those which are behind and reaching towards things ahead, I press toward the goal for the prize of the highly calling of God in Christ Jesus". Here was a man who knew where he was going: he knew his choice, history and destiny.

King David wrote: "One thing I have desired of the Lord, that I will seek that I may dwell in the house of the Lord all the days of my life" (Psa. 27:4). Many lack purpose and make poor choice and lose focus. Their priorities are not straight and are careless about wise choices, legacy and destiny. Whether we are rich or poor, male or female, famous or unknown, American or European, Asian or African, Latino or white, black or brown, we all should make proper choices to have purpose of our lives before and after death.

The real 'choice' for the best 'history' and the best 'destiny'

We are born into this world spiritually dead and we are born into a world of physical and spiritual death. Unless, something happens, we will live our lives in rebellion against God and we are destined for the judgment of God. To redeem us, the almighty God made the ultimate choice to sacrifice His only begotten son, because He loves us so much (John 3:16). Jesus accepted His father's choice and submitted to His will to die for us so that we will make the real 'choice' to have the real 'history' and the true 'destiny'.

"Life with Jesus is an endless hope and life without Jesus is a hopeless end". Jesus Christ was offered once to bear the sins of many (Heb. 9:28). He took the punishment for us. He became the substitute and died for us because He loved us so much.

King Solomon, the wisest man ever lived, tried many dead-end pursuits in life. He sought fulfillment through education, sought pleasure through food, wine, sex, music and so many other ways. He finally concluded: life that does not center on a relationship with God is empty and vanity. He wrote: "Let us hear the conclusion of the whole matter, Fear God, and keep His commandments, for this is the whole duty of man. God shall bring every work into judgment, with every secret thing, whether it be good or evil" (Eccl. 12:13-14).

Let us follow the steps of the great men in history and the great people in our life time who made great choices. These great people kept their choices; stayed focused and kept their eyes on Jesus despite many trials, temptations and tragic situations.

You are your choice, your choice is your history and your choice is your destiny. "The choices we make in life ultimately determine our destiny". With God's help, we can keep our focus on Jesus Christ, stay close to Him and finish well. May the almighty Lord help us to make the real choice for a great history and for a wonderful destiny.

"Let me walk with you, dear Savior.
Side by side and hand in hand,
Keep me clean and pure and faithful,
Till I reach the Heavenly Land"

-The words of Hess
---
Meditation:
Making most of the time
Saju Mathew
Reading passage: Col. 4:2-6

"Conduct yourselves wisely toward outsiders, making the most of the time" (Col. 4:5 - RSV)

What is the most precious gift of God, of course, other than Jesus? Money? Health? Wealth? No! It is time!

If you loose money today, may be you can gain it tomorrow. You can regain anything material, except time. You have given only a fixed amount of time, equal to the span of your life. So, spending time means spending your life. You cannot afford to loose it in laziness or mismanagement. So we have to "make the most of the time"!

Paul also asks us to "continue steadfastly in prayer, being watchful in it with thanksgiving" (v. 2). When I am in this world, I get the most from my time when I spend it in the presence of the Lord! When I spend time in silly talk, slander, watching vain things in the TV or surfing useless sites on the internet, I am loosing my time that I could have spend with my Lord. I make the best use of my time, when I spend it with my Lord!

Another way to make use of the time is to spend it for others, who are lonely and neglected. What they need most is not our money, but our time. "Pure and undefiled religion before God and the Father is this: to visit orphans and widows in their trouble..." (James 1:27). "Visit" to the orphans and widows in their affliction need time, but God honors it. "He who is kind to the poor lends to the LORD, and he will repay him for his deed" (Proverbs 19:17).

So, making the best of your time is spending it in the presence of God and also giving it away for the needy and poor. The rest of the time we get- if we get it at all- also should be spent wisely. When we are wise, we will speak only gracious words that are seasoned with salt (v. 6). When we use harsh words, people get offended. Then I need to find time to make my relation right. So if I am not wise, I am not only losing the time that I spend for quarrel, but also the time I spend for reconciliation!

Prayer: Jesus, I make the best use of my time by spending with you and also with the afflicted. AMEN

Further readings: John 9:4,5; 1 Cor. 7:24-34
---
<!IMG SRC="jefreys1.jpg" WIDTH="72" HEIGHT="94" BORDER="0" ALT="">
News & Views
Johnson K. Samuel
Cardinal asks Catholics: don't drink on Christmas Day!

Cardinal Varkey Vidyathil's instruction to Catholics of his archdiocese in Kerala, to celebrate a liquor-free Christmas this year has been described by Times of India as a bold step! The cardinal regrets that alcohol consumption has become an integral part of all Christian celebrations. He says: "Whether it's Christmas, Easter or family celebrations, we serve liquor to enjoy the occasion". So the perception in the minds of general public in India that Christianity is a religion of the west and the so-called Christians are addicted to alcohol is not wrong after all.

The good cardinal is advocating only a liquor free Christmas. But is he bold enough to endorse St. Paul's words and tell his flock, "---- nor thieves nor the greedy nor drunkards nor slanderers nor swindlers will inherit the kingdom of God?" (1 Cor. 6:10). As expected, more than 80 crores worth of liquor was consumed in Kerala during the last Christmas week, newspapers have reported.

Student sues history teacher

Chad Farnan, a high school honors student in California, has filed a lawsuit against his history teacher, James Corbett, for his anti-Christian bias. Farnan tape-recorded the teacher's remarks in the open class, like: "When you put on your Jesus glasses, you can't see the truth".

The 16-year-old says: "He is my teacher. But I've lost all respect for him. I'm offended". The legal group representing Farnan says: "Corbett has violated the Establishment Clause, which prohibits government from advancing religion or promoting hostility toward religion. He causes students who hold religious beliefs to feel like second-class citizens because of their religious expression, beliefs and conduct".

It has become highly fashionable to deny the existence of God. Satan subtly tries to convince young minds that faith in God is a laughable proposition and scientifically wrong. But history has records of many great scientifc minds believing in a Creator who is behind the laws that govern the universe.

Chinese Bible Policy at Olympics

Chinese government has ruled that all those who travel to the 2008 Olympic games in Beijing cannot take more than one Bible into the country. Sen. Ken Salazar of USA says that Americans traveling to China should defy this rule. But another senator Orrin Hatch advises that no one should purposely defy the law, but those who take a Bible into the country should leave it there afterwards.

Good thinking, indeed! Let a million Bibles enter China!!

Bibles in hotel rooms

Gideon's began placing Bibles in guest rooms of hotels as an evangelistic tool. According to the American Hotel & Lodging Association, Gideon's International placed their first Bible in 1908. However, today, many trendy, upscale hotels are putting other initiatives in place that compete with Biblical principles such as materials from other religions, media, or pornography. In spite of the competition with technology and other recent initiatives, the Bible will remain a standard at the majority of economy and luxury hotels across USA, including Wyndham and Marriott Hotels.

Solo artist, Eliot Sloan, travels quite frequently. He said he regularly reads the Bibles that are made available in hotel rooms, but he also takes his Bible on the road. Although it is hard to say how many people may read the Bibles provided in hotel rooms, Sloan feels: "Probably more people read it than one may think". He adds: "God's Word is being snuffed out in so many other ways, it is important for it to be in as many places as possible. We just want people to have peace and eternal life. We are trying to feed the world meat and vegetables and all that the world wants is dessert".

We whole-heartedly endorse Sloan's views. Let us hope hotel managements continue to keep Bibles in their guest rooms.

Most religious nations of the world

ASSIST News Service reports that India, Nigeria, Brazil and Morocco are among the most religious nations in the world. A worldwide opinion poll among 21,000 adults in 21 nations conducted by the German Bertelsmann Foundation has found that more than 96 percent of the population in these countries regard themselves as religious. As far as spirituality is concerned Western industrial nations lag far behind the developing countries.

It is quite clear that increase in wealth and material comforts tend to draw people away from belief in God. Acquire wealth, but don't be attached to it. Keep your faith and trust in God, the giver of all good gifts.

Christian residents leaving Bethlehem

After Israel turned over control of the town of Bethlehem, the historic birthplace of Jesus, to the Palestinian Authority in 1995, it is facing a continuing exodus of its Christian residents as a result of growing Muslim persecution. At the time of Israel's withdrawal, Christians made up 62% of Bethlehem's population. Today, that figure stands at approximately 15%.

Bethlehem town may lose all its Christian population. But who can remove the town from the hearts of Christians?
---
<!IMG SRC="jefreys1.jpg" WIDTH="72" HEIGHT="94" BORDER="0" ALT="">
Personalities encountered by Jesus - 6:
Matthew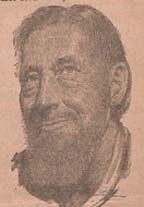 And as Jesus passed forth from thence, he saw a man, named Matthew, sitting at the receipt of custom: and he saith unto him, Follow me ...." (Matt. 9:9)

Matthew, originally called Levi, was a native of Galilee. Although a Jew, he apparently enjoyed the confidence of the Romans, whom he served as a tax collector. His job was to collect custom duties or fees from persons and commodities that passed over the Sea of Galilee, or along the portion of the Damascus road that skirted it.

After Jesus called him to be a disciple, Matthew, who was evidently a man of means, gave a feast at his home. In addition to Jesus, who was probably the guest of honour, he invited other disciples as well as several of his friends. His idea in giving such a banquet would appear to be twofold: to mark the end of one way of life and the beginning of a new way as the disciple of Jesus; and to give his former companions an opportunity to know something of the new gospel that had changed his life.

Matthew's personal stature grows when seen in the perspective of his personal life prior to his meeting Jesus: a man of education and wealth, the handler of money - that symbol of materialism and worldliness - he had only to be bidden, "Follow me", and he turned his back resolutely and finally upon the past.

After the ascension of Jesus, Matthew remained in Jerusalem with the other apostles. On the day of Pentecost, he received the gift of the Holy Spirit. Christians are greatly indebted to Matthew for his gospel, in which he carefully preserved the words and parables of Jesus.

The Bible does not tell how long Matthew remained in Judea, but a fifth century church historian relates that he was martyred in Ethiopia, where he had gone as a missionary.

- selected
---
Children's corner
"Shiny Aunty"
Renee was an obedient little girl. She would memorize a verse from the Bible every day. She also had the habit of reading the Bible every day before she would study her school lessons. She prayed to God for all her needs. Her mother taught her that "the fear of the Lord is the beginning of wisdom" (Prov. 1:7). She did well in all her studies and she grew up to be a mature girl. Now God is using her to teach other little children in the school to know about the living God. God's word tells us in Prov. 3:1-4: "My son do not forget my teaching, but keep my commands in your heart, for they will prolong your life many years and bring you prosperity. Let love and faithfulness never leave you; bind them around your neck, write them on the tablet of your heart. Then you will win favour and a good name in the sight of God and man".

Dear children, obeying God's word will certainly bring favour and good name before God and man. Therefore cultivate the habit of reading, meditating and obeying God's word so that you would prosper and enjoy the blessings of God this new year.
---
Malayalam section:
Gethasamanayiley raathri
Pastor John T. Mathew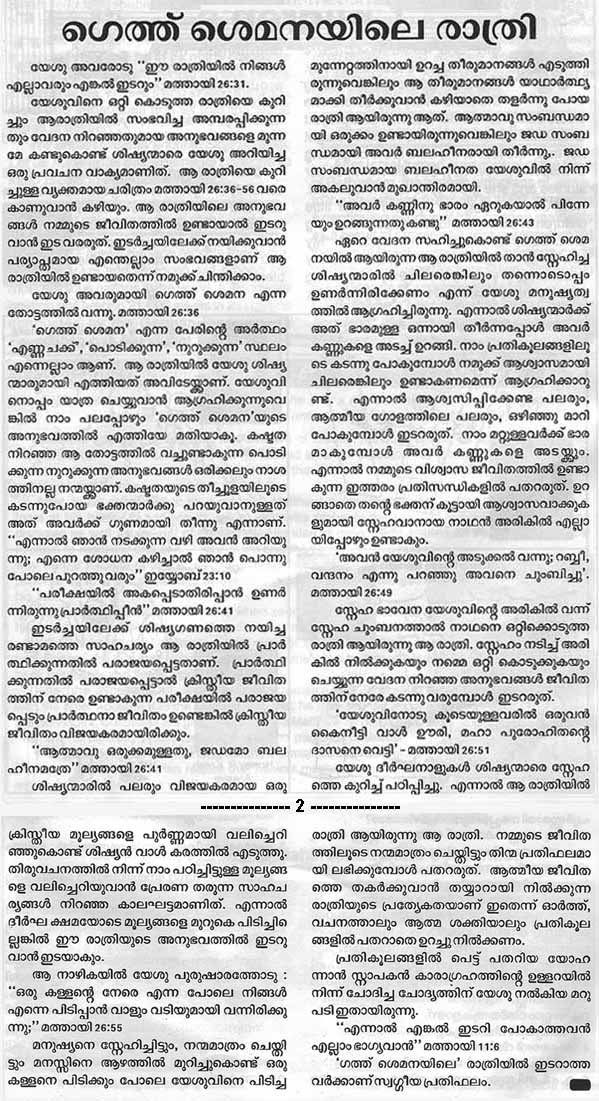 ---
<!IMG SRC="kvvarghese1.jpg" WIDTH="72" HEIGHT="90" BORDER="0" ALT="">
Malayalam section:
Interview with Pastor Valsan Abraham
Pastor P. Joy and Bro. Varghese Kollakompil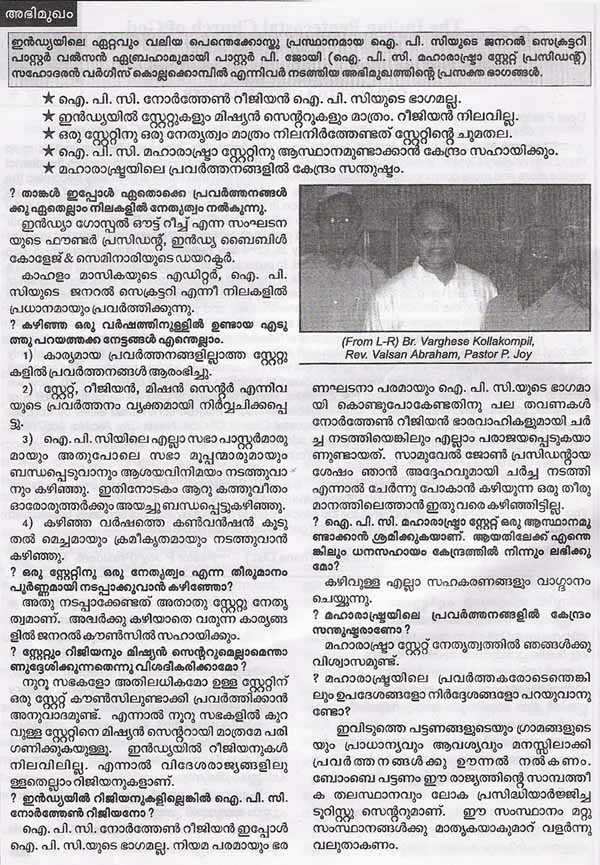 ---
| | |
| --- | --- |
| <!IMG SRC="josemathew1.jpg" WIDTH="72" HEIGHT="87" BORDER="0" ALT=""> | Titbits |
Words of a great scientist:

Einstein said in an interview in 1929:

"We are in the position of a little child entering a huge library filled with books in many different languages. The child knows someone must have written those books. It does not know how. It does not understand the languages in which they are written. The child dimly suspects a mysterious order in the arrangement of the books but doesn't know what it is. That it seems to me, is the attitude of even the most intelligent being toward God. We see a universe marvellously arranged and obeying certain laws, but only dimly understand those laws. Our limited minds cannot grasp the mysterious force that moves the constellations"

(see 'Einstein - a life', D. Brian, Wiley, 1996, page 186)

Shiny John notes:

God's word tells us: "A man reaps what he sows. The one who sows to please his sinful nature, from that nature will reap destruction; the one who sows to please the Spirit, from the Spirit will reap eternal life" (Gal. 6:7-8). Our life is made up of little decisions that we make each day. Our decisions can build us or ruin us. If we make our decisions in obedience to God's word and in the light of eternity, we will build a righteous life. But if we make our decisions according to our futile desires for the fleeting pleasures, then we may regret in eternity. We are already reaping the fruits of the decisions we had made in the days gone past. But the days that are ahead is still before us to make restitution or to make further progress towards that which is good and of eternal value. We reap what we sow. If we sow towards righteousness, we will reap a righteous life. If we sow towards our futile pleasures we will reap a life that would be meaningless. This new year let us sow that which will bring forth fruits of righteousness in our life and bring glory to God. Let us sow seeds of goodness, love, obedience, truthfulness, faithfulness, forgiveness, meekness, temperance and all that are pleasing to God. Then we would reap a harvest of righteousness in this life and the life hereafter. Let the good Lord give us wisdom to make the right decisions for a life that would bring pleasure and glory to God. Maranatha! Our Lord is coming soon.
---
<!IMG SRC="sabu1.jpg" WIDTH="72" HEIGHT="84" BORDER="0" ALT="">
Sponsor's page
Dr. Thomson K. Mathew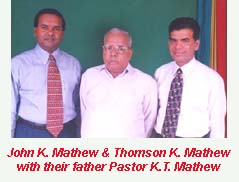 Dr. Thomson K. Mathew is the son of the late Pastor and Mrs. K. T. Mathew of Vazhuvady, Mavelikara, Kerala. Pastor K. T. Mathew, son of Pastor K. M. Thomas of Niranam and nephew of Pastor T. N. Abraham, was the district pastor of Mavelikara West District of the India Pentecostal Church. Thomson completed his Pre Degree Course at Mar Thoma College, Thiruvalla and received his B.Sc. degree from Bishop Moore College, Mavelikara. A full scholarship from Yale University took him to America in 1972 where he received the M.Div. and S.T.M. degrees. After serving an American church as senior pastor for five years, he joined the Oral Roberts Ministries in 1981 as a chaplain. During this period, he received a D.Min. from Oral Roberts University and a Ed. D. from Oklahoma State University.

Dr. Mathew is a clinical member of the Association for Clinical Pastoral Education and a Board Certified Chaplain of the Association of Professional Chaplains (College of Chaplains). He joined the faculty of the School of Theology and Missions at ORU in 1989 and became dean of the School in 2000. ORU has over 5000 students of which nearly 1000 are majoring in Theology at Bachelor's, Master's and doctoral levels.

Dr. Mathew's wife, Molly, is the granddaughter of the late Pastor K. C. John (Pathichira Yohannachan) and the daughter of the late Pastor and Mrs. K. J. George of Kayamkulam. The Mathews have two daughters. Their daughter Amy who holds a Ph. D. is on the staff of a Christian University and is married to Dr. Fiju Koshy, a physician who along with his practice is involved in medical missions. Their second daughter Jamie is a corporate attorney. Both daughters earned their bachelor's degrees from ORU.

Along with his duties as dean of Theology at ORU, Dr. and Mrs. Thomson K. Mathew are currently involved in international ministries in Asia, Europe and Central America. Dr. Mathew also serves as the patron of IPC Mavelikara West District where his brother Pastor John K. Mathew is district minister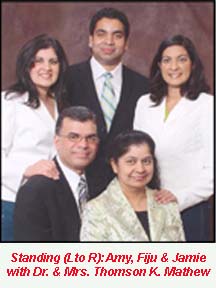 ---
© Copyright 2008 Suvartha Publications, Bombay, India. All rights reserved